BTS Annual Awards 2021
Comments: 0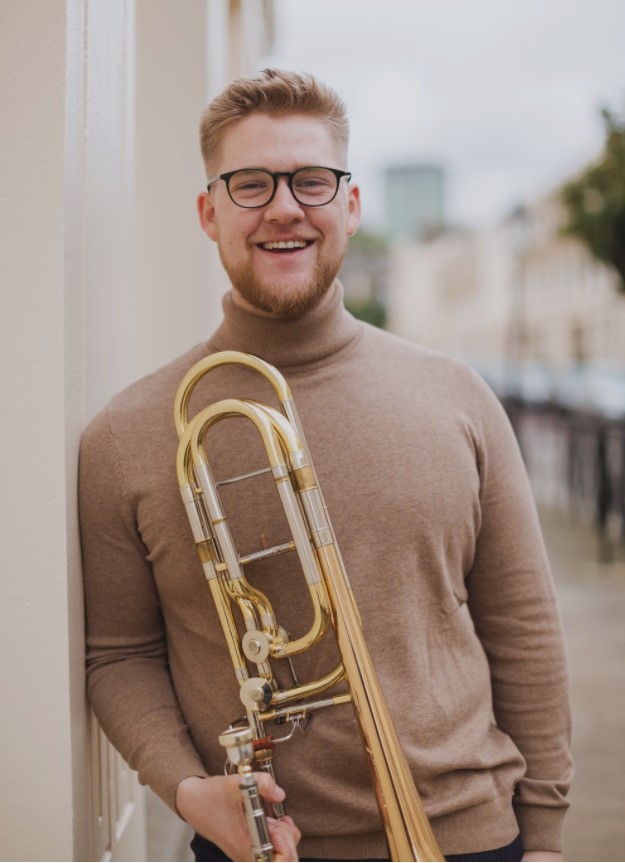 Throughout this week we will be showcasing our award winners for the British Trombone Society Annual Awards 2021!
Next up is Angus Butt, who has been chosen as our Student of the Year! Congratulations, Angus!
Angus grew up in Helensburgh, Scotland, first learning the tenor trombone with Sarah Grant and then moving onto the Bass Trombone with Alastair Sinclair. Throughout this time he played with the National Youth Orchestras of Scotland and Great Britain; He is  currently a member of the European Union Youth Orchestra. Angus studied his undergraduate degree at the Royal Academy of Music with Bob Hughes and Keith McNicoll and is now studying with James Buckle and Paul Milner for his postgraduate degree at the Royal College of Music. He has recently begun working on the professional circuit and is currently on trial with the RTÉ National Symphony Orchestra whilst freelancing with orchestras such as the Bournemouth Symphony Orchestra, English National Opera, RTÉ Concert Orchestra, BBC Scottish Symphony Orchestra, Welsh National Opera, Orchestra of the Royal Opera House and the Sinfónica de Galicia in Spain.
During his time in London, Angus has won various awards in solo and chamber music. As a soloist, he has won the John Solomon Brass Prize as well as the Worshipful Company of Musicians Brass Prize with brass dectet, Ibex Brass - with whom he was also a RAM chamber music fellow. He is also a founding member of the trombone quartet Bone-afide, who have won the international trombone association quartet competition and were awarded both the Tunnell Trust award and the RPS Philip Jones award. Other achievements include being a finalist in the Solo Hungarian International Trombone Competition, winner of the Dublin Brass Week Concerto Competition and 1st prize in the Swisstbone Bass Trombone Student Competition.
Angus is very grateful and honoured to be a Victor and Lilian Hochhauser award holder as well as being an Ian Fleming Award holder, and having a James Caird Traveling Scholarship and is a also Countess of Munster Scholarship holder.
Share this article