Alicante trombone course 2008
Written By: David Read Comments: 0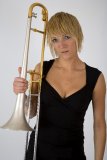 Young trombonists from across Europe have been flocking to an international summer course in Alicante, Spain for a week of intensive masterclasses and workshops. This year's course is set to be even bigger, featuring guest trombone artistsBen van Dijk,Jorgen van Rijen,Javier Colomer,Carol Jarvis andJaume Gavilan. The course will focus on improving technique, ensemble playing, orchestral section work, orchestral excerpts, preparation for auditions, covering all styles and musical eras. There will also be concerts from Spanish Brass and the course tutors. Carol Jarvis has really enjoyed heading out in past summers:
 The highlight of my year is when I get invited back to Spain to coach on courses run by Javier Colomer. The courses are always packed full of brilliant artists giving plenty of classes and concerts (all spoken in English, so nothing to worry about!). The weather never fails to be wonderful, the place is gorgeous, they work hard but also know how to party hard and with Spanish Brass joining us at the end of the week no-one can possibly walk away disappointed. Flights to Alicante are always advertised at good rates, the price for students on the course is just astounding and I'd love to see more English trombonists coming over to join us for what's bound to be yet another great week in the sun.  
 
The cost of the course for professionals / advanced students is €200. The course for medium students is €150. There will be a maximum of 15 students per teacher. Student accommodation is available for €25. Food is available from restaurants and bars. Full information available from Escuela Comarcal de Música del Comtat.
Share this article