Announcing the BTS Trombone Quartet Competition 2019
Comments: 0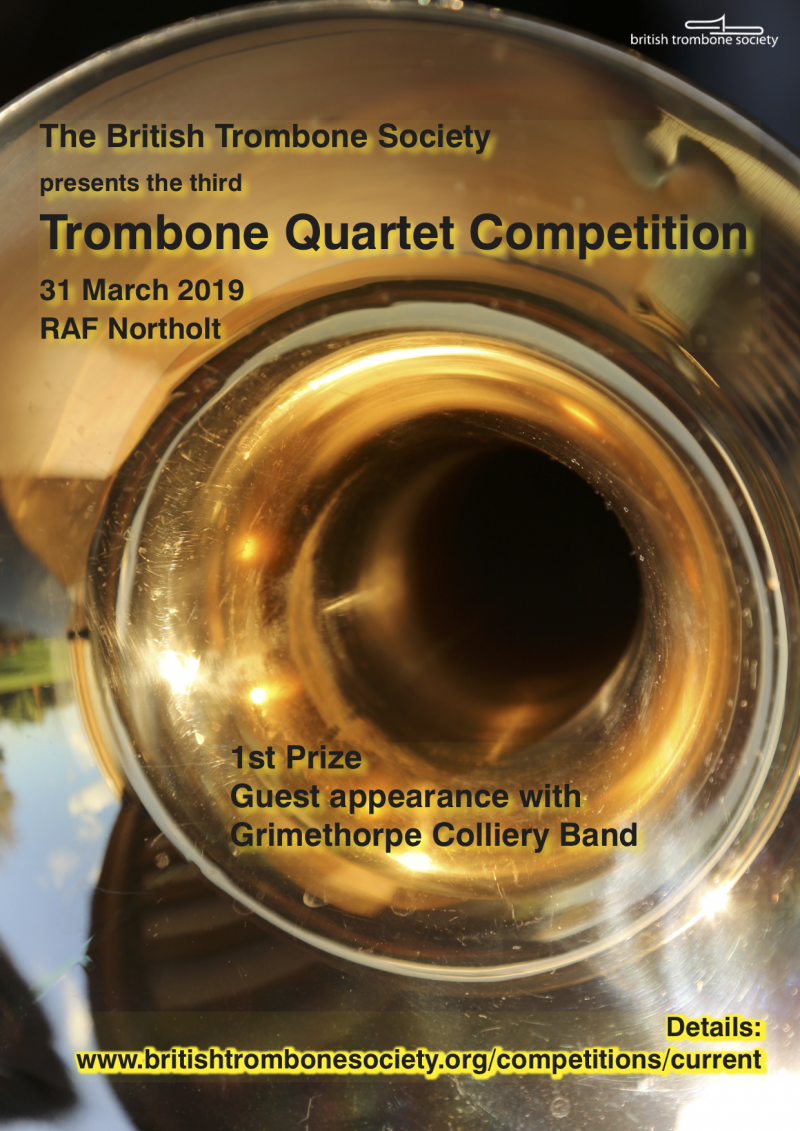 Applications are now invited to the 3rd British Trombone Society Trombone Quartet Competition!
The competition is open to all quartets and they will be judged on their choice of programme, musical and technical ability, and entertainment value.
The competition will be judged live by a panel selected by the BTS Committee at the BTS Trombone Day taking place at RAF Northolt, West End Road, Ruislip, London HA4 6NG on Sunday, 31st March 2019.
Prizes:
First Prize will be a guest appearance with Grimethorpe Colliery Band at one of their concerts to be mutually agreed.
Prize winners may be invited to perform at future BTS events.
Repertoire: Free choice not to exceed 15 minutes duration.
General Conditions:
The competition is open to trombonists of all nationalities. Quartets may contain any combination of bass, tenor or alto instruments.

Entry fee is £40.00 per quartet where all four players are paid up members of the BTS and £60.00 per quartet if they contain one or more non-BTS members; both include free admission to all areas of the BTS day.
Travel expenses to and from RAF Northolt will not be paid.
The decision of the judges is final; there is no right of appeal. All performances are open to the public.
To register please complete the entry form and send it to: secretary@britishtrombonesociety.org to arrive no later than 31st January, 2019.
Entrance fees may be paid via Credit/Debit card, PayPal or member's GoCardless Account.
Please email administrator@britishtrombonesociety.org for fee payment details.
Click here to download an application form and a copy of the rules.
Share this article