Bousfield professor in Switzerland
Written By: David Read Comments: 0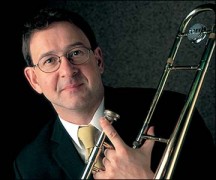 As Ian Bousfield takes on a new teaching position in Switzerland, he has put out a call for talented students from all over the world to come and study with him there. Starting in September 2011, he will be the trombone professor at HKB in Bern, in addition to his occasional visits to the Royal Academy of Music in London.
The Vienna Philharmonic trombonist said he is immensely excited about "the prospect of working with the incredibly rich source of local talent combined with bringing in top students from all over the world."
Those who have interest in studying with him are invited to contact him directly at: contact@ianbousfield.com or go to http://www.hkb.bfh.ch/ . The entrance auditions for the coming autumn will be 12th September and deadlines for application are 20th August. Given the short notice of the appointment, there is flexibility with dates.
Share this article