Bousfield solo
Comments: 0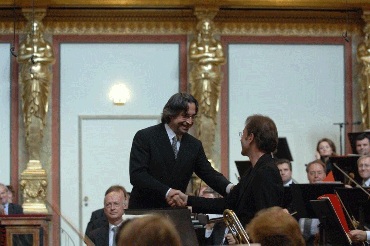 Having performed the Rota concerto to great acclaim in seven performances around the world last Autumn with the Vienna Philharmonic and Muti, star British trombonist Ian Bousfield is already looking forward to his next crop of solo engagements.
I'm also absolutely delighted that I will be doing the Albrechstsberger this year with the Vienna Hofmusik Kapelle - the oldest orchestra in the world. I am a member and it is a great honour that they've asked me to do this twice in the Musikverein and it's going to conducted by Sir Neville Marriner which is just amazing - I really never thought that I would ever get the chances I'm getting. It seems that others have had done lots of ground work and I'm coming in at the top! Now I have to work out whether I'm going to go the whole way and play it on the baroque trombone.

I also have the Rota concerto with the Orchestra de Lille and the Rimsky-Korsakov with the Baden Wurtemburgisches Symphony Orchestra to look forward to in the autumn so all in all I've got lots to prepare for.
Ian Bousfield is congratulated by Riccardo Muti after his critically acclaimed solo performance in September 2008 in Vienna's Musikverein: the first time the famous Vienna Philharmonic have ever performed a trombone concerto. Photo: Terry Linke
Share this article