Byron Fulcher in Craxton Memorial Concert
Written By: Edward Solomon Comments: 0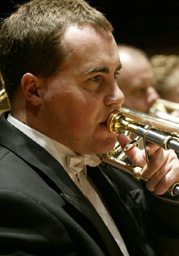 Byron Fulcher, principal trombone of the Philharmonia Orchestra, rising star and BBC New Generation artist, soprano Ailish Tynan and past Craxton Memorial Trust award-winner, pianist Alison Procter, will be presenting a programme of baroque, classical and 20th century works.
The programme will include the rarely heard Jener Donnerworte Kraft from Wolfgang Amadeus Mozart's very early opera Die Schuldigkeit des ersten Gebotes, Sigismond Stojowski's Fantasie and Pièce en mi bémol mineur by Guy Ropartz - two of the trombone repertoire favourites.
This is a very exciting and not-to-be-missed collaboration by these three wonderful artists. A delicious afternoon tea will be served following the concert.
Craxton Memorial Trust Fund-Raising Concert
Date/time: Sunday 14 April 2013 at 4:00 PM.
Venue: Craxton Studios, 14 Kidderpore Avenue, London NW3 7SU
Performers: Byron Fulcher (trombone), Ailish Tynan (soprano), Alison Procter (piano)
Entry: Donations of £20.00 per person (£10.00 for children) are requested.
Please e-mail Jane Craxton to reserve seats.
Share this article