Competition Success
Comments: 0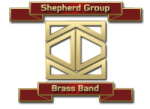 The Shepherd Group Brass Band recently held their first solo competition involving the five bands in their group (Brass Roots, Beginners, Youth, Concert and the Senior Band. Invited to adjudicate was former member and now principal trombone of the Brighouse & Rastrick Band, Ryan Watkins.
The competition was presented in four sections, 12 years and under, 16 years and under, open and veterans with around 50 players entering the competition.
Congratulations to Isaac Bousfield winning the 12 years and under category with an impressive performance. "I was blown away," said Ryan, "Isaac demonstrated a very special talent."
Isaac, who takes lessons from a famous uncle had only last week gained a Distinction in his Grade 8 examination. We wish Isaac all the best for the future in his studies.
Representing the veterans, Kate Lock also won a trombone prize with a performance of "Cry Me A River." Well done Kate!
Share this article