Congratulations to Aeris Brass
Comments: 0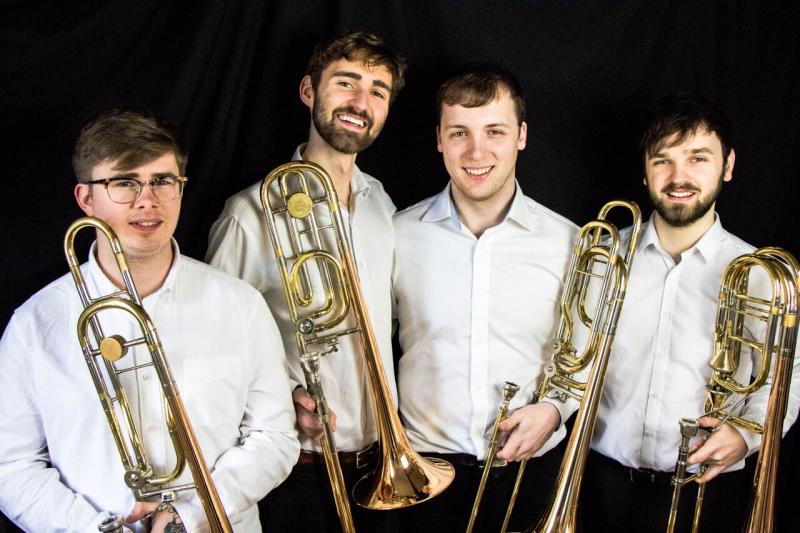 Congratulations to Aeris Brass, winners of the BTS Trombone Quartet Competition 2019!
The biennial BTS Quartet competition was held on March 31st at RAF Northolt and adjudicated by Helen Vollam and Becky Smith from Bones Apart, and Jon Stokes, one of London's leading freelance players.
Four excellent quartets had reached the final and they each displayed high quality playing. The groups were Aeris Brass and Regents Trombones, both from London, Bute Trombones from the RNCMW in Cardiff, and finally an unnamed quartet from Windsor. Together they offered a striking range of contrasting repertoire, with contemporary works by John Kenny and Simon Wills alongside arrangements of music by Elgar, Robert Hampton, Poulenc, and Hoagey Carmichael.
Aeris Brass was the eventual winning quartet, proving to be a communicative and entertaining group with a sense of musical adventure alongside their considerable skill. Their prize is a guest appearance with Grimethorpe Colliery Band (watch the BTS website for details) and they are also to perform at the Durham Brass Festival, playing at the BTS Day on Sunday July 21st.
Ian Sankey from the "surprised and delighted" winning quartet revealed that he and his friends Martin Lee Thomson, Alistair Goodwin and Adam Crighton, were contemporaries at music college in London. Martin was at Trinity, the others at the Guildhall.
In 2015 they organised a recital tour of Scotland and their freelancing career has grown from that. To date, they've worked with leading players such as John Kenny and Carol Jarvis, and have had a number of engagements in festivals, including one in Italy. Between the four of them, they play music across a vast array of genres and styles as well as in a multitude of situations and settings. 
Having two basses in the group, plus the option of an alto, extends the flexibility they have developed and this was very evident in the competition programme they performed. They aimed to showcase a broad range of the kind of music they love to play and planned a programme they and their audience could enjoy.
The programme comprised: 
Excerpt from 'Trombone Quartet' - John Kenny
Bosse Nordin's Schottis - Danish String Quartet arr. Crighton
Chanson de Matin - Elgar arr. Crighton
Cateract Rag - Robert Hampton Arr. Sankey 
Share this article