Congratulations to Sam Taber, winner of the Bob Hughes Bass Trombone Competition
Comments: 0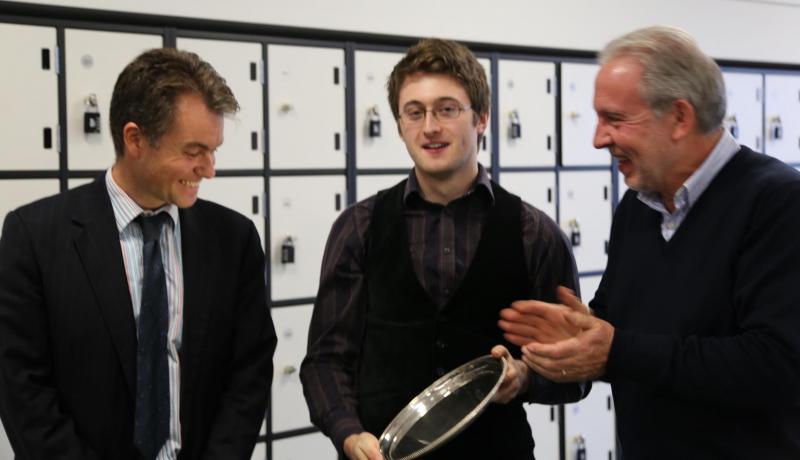 The finals of the Bob Hughes Bass Trombone Competition took place at the weekend during the Annual General Meeting and Midlands Trombone Day held at the University of Birmingham School.
As with previous editions of the Bob Hughes Bass Trombone competition, this proved an excellent demonstration of the talent that there is in this field, although that of course produces a challenge for the judges. This year the judges were Robb Tooley of the Bournemouth Symphony Orchestra, Kyle MacCorquodale from the Hallé Orchestra (and winner of the competition in 2016), and Peter Chester, representing the BTS, stepping in at short notice. To add to the occasion, and perhaps the pressure on the soloists, Bob Hughes himself was present to award the silver shield to the eventual winner.
The finalists were Ignas Filonovas, from Lithuania, Adrian Gryciuk from Poland and Sam Taber from the UK and it is a tribute to the prestige of the event two of the finalist were willing to travel from Europe to participate.
This year each player performed Eugene Bozza's "New Orleans," a significant challenge in itself, as well as a piece of their own choice.
Remembering that all the performances were of a very high standard, with near perfect technical achievement from each of the players, what eventually differentiated them were musical issues such, as for example, risk taking with dynamics, to generate excitement and engagement with the audience. Of course, sound quality is also important, and it was interesting to listen to the different tone qualities each player presented, although overall each obviously produced that warm, rich sound that a well-played bass trombone can generate. Each finalist had winning qualities and we can be sure that each of them can look forward to a distinguished career, but at this stage in their development, the narrow decision on a winner came down to the quality of performance overall, taking into account musicality as well as technical issues. Music is about communication, attracting the audience to listen, and a winning performance sustains that.
Sam is pictured above accepting the Bob Hughes Salver from Bob and Robb Tooley. Sam also wins a guest appearance with the Bournemouth Symphony Orchestra at a venue to be confirmed.
Well done to all finalists and competitors.
Share this article