Denis Wick wins MIA Music Awards for Exports
Written By: Edward Solomon Comments: 0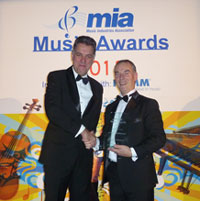 Denis Wick Products has won the prestigious award for Export Initiative at the recent MIA Music Awards 2011. Denis Wick accessories are familiar to every brass player and there is hardly a band or orchestra in the world without one ofthe company's mutes or mouthpieces. The Denis Wick factory in Dorset employs 22 people and more than 80% of their products are exported to different markets all over the world.
The award is made by the Frankfurt Musikmesse in recognition of outstanding achievement in exports. It was presented to the 80-year old Denis Wick and his son Stephen by Wolfgang Lücke of Musikmesse and comedian Dominic Holland, who was the compère of the 2011 Music Awards. The awards were held at the Grosvenor Square Marriot Hotel in London on 30 November.
Stephen Wick said:
"It is wonderful to be recognised by Musikmesse and the MIA for the efforts we have put it into promoting our products abroad. We have a great product and a great team of people at the factory. It is good to be a British success story in these austere economic times."
Share this article