Dennis Rollins & Skelmanthorpe Band
Written By: Geoff Wolmark Comments: 0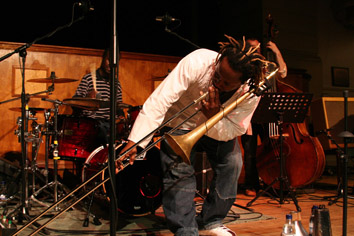 As part of Skelmanthorpe B Band's Fundraising efforts to attend the National Brass Band Championship Finals in September the band has organised a special concert featuring international jazz and solo trombonist, Dennis Rollins.
The concert on Friday 21 June at 7:30 PM will be the first concert to held in the new theatre at Shelley College, Skelmanthorpe (HD8 8NL). The theatre has a purpose built auditorium and promises to be a great new venue.
Dennis Rollins will play alongside the Skelmanthorpe B Band and also the band's guests, the Shelley College Big Band.
Dennis Rollins is kindly appearing through the generous support of Michael Rath Trombones.
Tickets are priced at a very reasonable price of £5.00 (£4.00 concessions).
Tickets are available from Tim Stell (01484 868138 or e-mail bandmanager@skelmanthorpeband.org.uk
See the Skelmanthorpe Band website for further information.
Share this article