Douglas Yeo retires from Boston Symphony Orchestra
Written By: Edward Solomon Comments: 0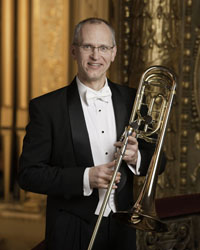 Today, Douglas Yeo announced his retirement from the bass trombone chair of the Boston Symphony Orchestra with effect from 27 August 2012, after over 27 years of service. He will also be retiring from the faculty at New England Conservatory of Music at the same time.
In his own words, he says of the future:
I will not, however, be retiring to sit on my sofa and watch television all day - there is much ahead for me.
Since this is a major decision, Mr Yeo has prepared a page on his website that gives all of the details about this decision and the exciting future that awaits him in a new part of the USA. For more information, see the full announcement.
Share this article