German Brass tour UK
Written By: David Read Comments: 0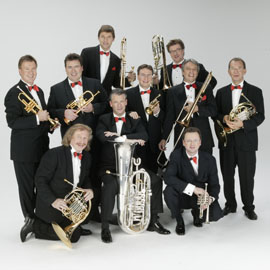 German Brass, the ten-piece ensemble of distinguished brassmusicians from major German orchestras, will visit the UK next monthfor a whirlwind tour of concerts and masterclasses. Visiting Glasgow,Manchester and London, their performances will include their ownarrangements of music by Bach, Beethoven, Johann Strauss and Liszt.
Wednesday 22 October 2008
Royal Scottish Academy Of Music And Drama, Glasgow
8pm, concert, Academy Concert Hall
Friday 24 October 2008
Royal Northern College Of Music, Manchester
8pm, concert, Haden Freeman Concert Hall
Tickets: £12 (conc. available) from RNCM box office 0161 907 5555
Saturday 25 October 2008
Guildhall School of Music & Drama, London
2-5pm Open Rehearsal
7.30pm Concert
Sunday 26 October
Guildhall School of Music & Drama, London
10am-12pm Masterclasses with:
Wolfgang Gaag horn
Matthias Höfs trumpet
Enrique Crespo trombone
Stefan Ambrosius tuba
1-2pm Guildhall Brass Ensemble directed by Eric Crees
Music for Brass, including Gabrieli and soloist Philip Cobb
2.15-4.15pm Classes in horn, trumpet, trombone and tuba with Guildhall professors
Tickets for Guildhall events: £10 (£5 concessions, Guildhall staffand students) for both days (no single day tickets) from the BarbicanBox Office 020 7638 8891.
Share this article