Ian Bousfield resigns from VPO
Written By: Edward Solomon Comments: 0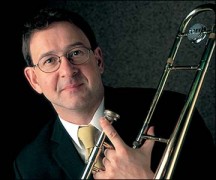 Hot on the heels of his colleague Jeremy Wilson, Ian Bousfield, principal trombone of the Vienna Philharmonic Orchestra and Vienna State Opera, has announced his decision to resign his first trombone chair and concentrate on solo performance and conducting. With the pressures of performing in the Vienna Philharmonic Orchestra, which doubles as the orchestra for the Vienna State Opera, he has found it increasingly difficult to set aside time for personal practice, teaching and conducting, all of which he finds important and incompatible with the demands of his current position. Announcing the news on his website, Ian states:
The fact of the matter is that I simply have not had a life now for many years. I've been living a double life – one as 1st trombone of the Vienna Philharmonic and one on the road as a soloist and teacher. Not only is it becoming bad for my health, and not only does it mean that I don't have time for the loved ones around me, but I don't get the feeling that I give of my best wherever I am when I am stretched so thinly. I have not consistently practised now for over 10 years, which might surprise a few of you! I have reached the point where I cannot go on any longer with four days' preparation time for important solo concerts. I am under no illusions that I'm going to be a world-famous soloist or conductor – this is simply a decision to spend my life doing what is important to me and with the people who are important to me. Whilst wishing for a quieter life, I just hope that I get enough opportunity to play, as even after all of these years I still wake up in the morning feeling like the luckiest man in the world, because I get to play the trombone.
We wish Ian well on his next venture and for the upcoming Summer Course in Solothurn, Switzerland.
Share this article