International Trombone Association honours BTS President
Written By: Geoff Wolmark Comments: 0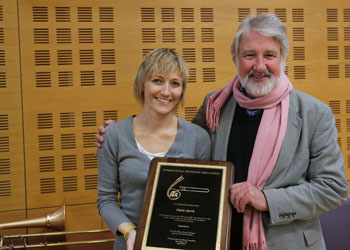 Carol Jarvis, BTS President, was presented on Sunday 28 April with the 2013 ITA President's Award. The presentation took place at the BTS Jazz day at the Royal Northern College of Music and was made by ITA President, Jiggs Whigham.
The citation on the plaque, reads:
To Carol Jarvis, a woman who will not accept the meaning of can't or quit, for her courage, inspiration and multifaceted contribution to the world of trombones.
Presented by the ITA Officers, Board of Advisors and Council of Past Presidents.
Share this article