Interview with Alastair Sinclair
Written By: Edward Solomon Comments: 0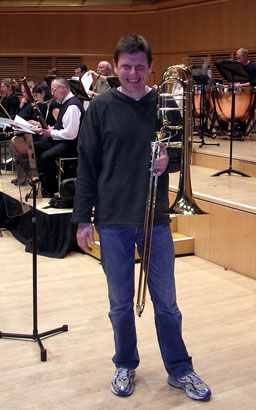 Royal Scottish National Orchestra bass trombonist Alastair Sinclair has been interviewed by National Symphony Orchestra bass trombonist Matthew Guilford in the first of a series of interviews. Says Alastair:
When I was 11 I wanted to play the trumpet but all that was available at my school was a trombone. Two of us were to share it for a week on a trial basis to see who was most suited. On the second day I managed to get the slide bent around a desk and when it came back from being repaired, six months later, I was the only one still interested.
In Matthew Guilford's own words:
This series will feature all kinds of bass trombone players, from high school students to seasoned orchestral players and everything in between.
Based on his recent interview with Boston Symphony Orchestra bass trombonist Douglas Yeo, we have much to look forward to in this forthcoming series of interviews from Matthew Guilford.
Interview with Alastair Sinclair at Matthew Guilford's weblog.
Share this article