IPV Symposium, Hanover
Written By: Edward Solomon Comments: 0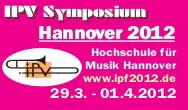 The Hochschule für Musik, Theater und Medien Hannover (HMTMH) and the Internationale Posaunenvereinigung e.V. (IPV) are staging the IPV Symposium Hannover 2012 from 29 March to 1 April 2012 in the HMTM in Hanover, Germany.
On the programme are classical and jazz concerts, solo performances, ensemble concerts and workshops in classical, jazz and early music.
Featuring Jiggs Whigham, Nils Wogram, Wim Becu, Uwe Füssel, Jonas Bylund, Chris Houlding, massed trombone choirs, IPV Annual General Meeting, presentaitions on trombone pedagogy and music education, trade stands and much more.
Artists
Trombone Unit Hannover, Frederic Belli, Angelos Kritikos und Lars Karlin, Mike Svoboda, Nils Wogram, Posaunenquartet Quatrobones, Wim Becu, Blechbläserquintet Schwerpunkt, Big band of the HMTM Hannover, Chris Houlding, Jamie Williams, Uwe Füssel, Niels-Ole Bo Johansen, Jiggs Whigham, Jonas Bylund.
Artistic director: Jonas Bylund
Organisation: Jakob Guizetti, Josef Gebker, Andreas Mössinger
IPV-Geschäftsstelle
Grauten Ihl 43
48301 Nottuln
GERMANY
Mobile: +49 0171 2101038
Telephone: +49 0721 7569777
Fax: +49 0721 7569778
E-mail: organisation@IPF2012.de, This email address is being protected from spambots. You need JavaScript enabled to view it.?subject=2012 IPV Symposium, Hannover">register@IPF2012.de
Web: http://www.IPF2012.de
Venue
Hochschule für Musik, Theater u. Medien Hannover
Emmrichplatz 1
30175 Hannover
GERMANY
Share this article