Israeli & Ernest Bloch Music Competitions
Written By: Geoff Wolmark Comments: 0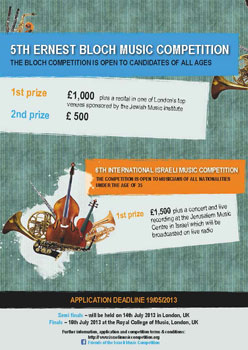 The fifth Ernest Bloch Music Competition and sixth Israeli Music Competition will be held in July at the Royal College of Music in London. Semi-finals will be on July 14th and July 16th both in London.
The application form must be completed online. The deadline for applications is 19 May 2013.
Further information, application form and competition terms and conditions are on the Israeli Music Competition website.
Share this article