London Auditions for Royal Conservatoire, The Hague
Written By: Geoff Wolmark Comments: 0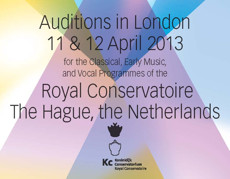 On 11 and 12 April 2013, the Royal Conservatoire of The Hague will organise auditions in London for its classical, early music, and vocal programmes. The auditions will take place at the London Welsh Centre.
All tuition at the Royal Conservatoire is in English to accommodate students from all over the world. In the curriculum, a lot of emphasis is put on performance, so students will have ample opportunity to practice their performance skills.
The tuition fee for all UK & EU students is € 1,835 per year. Scholarships are available for applicants who excel in their audition.
Further information about the auditions and how to apply can be found on the Royal Conservatoire of The Hague website.
After applications have been received and processed, applicants will receive all the details about auditions by e-mail.
Share this article