Meeting John Kenny
Written By: Jane Salmon Comments: 0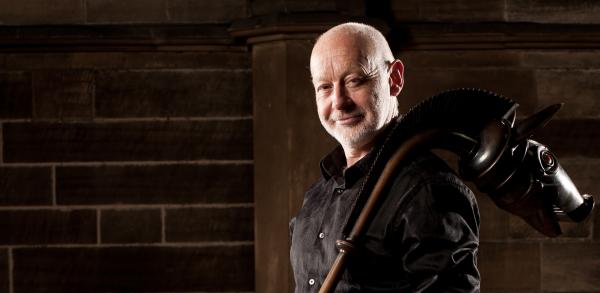 This piece now features in our new article section!
In 1993 John Kenny, a classically trained trombone player and fantastically interesting musician, became the first person for 2000 years to play the great war horn, the Carnyx.  The British Trombone Society spent the day with John at the London Festival of Contemporary Church Music to learn about these fascinating instruments and hear the world premiere of John's The Deer's Cry. 
John's relationship with really ancient instruments was initiated in the early 90s by a knock on the door from one of Scotland's leading cultural ambassadors, Dr John Purser.  Having arrived on John's doorstep, Dr Purser opened a briefcase, started to show John pictures of an extraordinary object and said – "have you ever heard of a Carnyx?'"  These photographs were of the remains of the Deskford Carnyx, found in the north-east of Scotland around 1816.  Dr Purser pulled together a team to reconstruct and replicate the instrument based at the National Museum of Scotland.  The team included himself as leading musicologist, archeologist Dr Fraser Hunter, a craftsman of precious metals and artist John Creed, Europe's leading expert on the acoustics of musical instruments, Professor Murray Campbell, and of course, the musician John Kenny. 
This reconstruction ended up being the flagship project for the new discipline of Music Archeology and has led to the discovery and replication of other Carnyces from various sites across Europe.  These discoveries have made it clear that people of Celtic culture all over ancient Europe were fascinated by these lip-reed instruments and as a result, made great horns and trumpets in many forms.  Many varieties of these instruments have been replicated and are used to denote Celtic tribes in modern culture; the Deskford Carnyx even features in the films Gladiator, Centurion and Brave.    
While these instruments mostly share a common structure they each have their own distinctive qualities.  The Deskford Carnyx features a boar's head with a hinged jaw, sprung tongue and brain cavity.  In comparison, the Tintignac Carnyx (found in France) boasts gaping jaws and huge, delicate ears; the Irish finding - the Loughnashade Horn, has no head but features a magnificent decorative bell disk.

These instruments are made for the eye, as much as for the ear.  It is quite clear that the cultural significance of these instruments is visual and symbolic, just as much as it is aural.  Although frequently referred to as 'war horns' these instruments are likely to also have had a range of ritual uses.  Every single fragment of a Carnyx has been found in sacred sites; nearly all of them have been sacrificed – they are not thrown away or lost, they have been ritually dismembered and placed in water sites, a known practice connected to Iron Age beliefs.
Jane: What first encouraged you to get involved with these instruments and their music?
John:   I suppose, in the process of everything that I had already done and learned as a trombone player, my search for sounds and techniques and interesting things to do with our instrument - the trombone - had led me to study the techniques of many other related instruments from other cultures.  I was looking for archaic sounds to bring into my playing of a modern contemporary instrument, which in itself is one of the most ancient and unchanged instruments that we still use today. It is a living, vibrant fossil. That is not to put it down – it's a wonderful thing. 
John Kenny has done a fantastic job of pioneering the playing of these instruments, offering a remarkable insight in to what brass instruments sounded like at the time of their creation.  These instruments lend themselves well to trombone players, as their length is just about 6ft long and therefore comparable to our modern instruments.  The tube size is very wide and the actual mouthpiece size is very similar to a trombone rim too.  The skill and power called for to play these instruments comes as second nature to trombonists.
The reconstruction and research of these wonderful instruments has been well documented. For more information and further reading, please refer to our 'resources' section at the end of this article.  
The London Festival of Contemporary Church Music provided an amazing opportunity to see John perform with these instruments.  The concert was dedicated to new music for choir and ancient instruments, featuring The Choir of Gonville & Caius College, directed by Geoffrey Webber and instrumentalists John Kenny (Deskford Carnyx), Patrick Kenny (Lochnashade Horn) and Barnaby Brown (Northern Triplepipes, Lyre & Aulos).   
A central piece of the evening's programme was the premiere performance of John Kenny's The Deer's Cry for choir and ancient brass.  This commission was a welcome invitation for John, who has a great passion for choral and vocal works with a particular love of the unique English School of Church music and it's purity of sound. 
Jane: Please tell us about your new work.
John:   Geoffrey left it entirely up to me what text I would set and I spent six months cogitating the decision.  I am very inclined to set my own poetry and the work of other contemporary poets too. On the other hand, if one was looking at the music – should I set pagan poetry from the period from which these instruments were made?  That was the big question.  I spent an awful lot of time looking at Greek and Roman poetry. Eventually I felt that I wanted to set a text which had something to do with the culture from which these instruments came, but we have no written Celtic texts from the period of 2000 years ago.
At the point we actually had the three Celtic instruments - the great horns of the ancient Celtic world – reconstructed, I thought 'yeah', there is only one poem that I know that could combine these three cultures for real, and that's possibly the oldest poem in old Irish that has come down to us.
The poem is called the Lorica, or 'the Deer's Cry' – attributed to St Patrick himself. I've set the text in three languages; old Irish, ancient Celtic Latin and a wonderful English translation.
The piece features two ancient instruments – the Lochnashade horn, representing Irish culture and the Deskford Carnyx representing where St Patrick originally came from.  It seemed appropriate to set with these instruments - this is a poem from the transitional period between Paganism and Christianity, between Roman culture and the hinterland culture of the Celtic Church.
The concert was excellent; the theatre the ancient instruments offer is truly captivating.  The Choir of Gonville & Caius College dealt with complex pieces extremely well and the skill from all of the musicians was outstanding. 
The Deer's Cry was very moving, and very well written. The interesting sound of the carnyces together with the pure sound of the choir worked wonderfully. See the piece, here!
 John Kenny has opened up this world of ancient music through a path of his own wonderings about the modern trombone and it is inspirational.  The connections he makes between the countless strands of creating, performing, composing and researching music are fascinating and resulted in a highly exciting and enriching experience on this occasion.
The Choir of Gonville & Caius College and the instrumentalists from this performance will be recording these pieces for release on the Delphian label later this year. John's next solo album 'Dragon Voices', is also going to be released on Delphian in September. We will make sure to keep you all posted with details.  
Resources
EMAP http://www.emaproject.eu/
John Carnyx and Co. http://carnyx.org.uk
John Creed http://www.emaproject.eu/john-creed.html
Dr John Purser http://www.johnpurser.net
London Festival of Contemporary Church Music http://www.lfccm.com
National Museum of Scotland http://www.nms.ac.uk/explore/stories/scottish-history-and-archaeology/deskford-carnyx/
The Scottish Music Information Centre http://www.scottishmusiccentre.com 
Jane Salmon
---
Would you like to read more of our articles?  A British Trombone Society membership (starting at just £14) includes free copies of our magazine as well as access to our online resources and fantastic discounts.  Join here!
Share this article