Peter Moore Joins LSO
Written By: Edward Solomon Comments: 0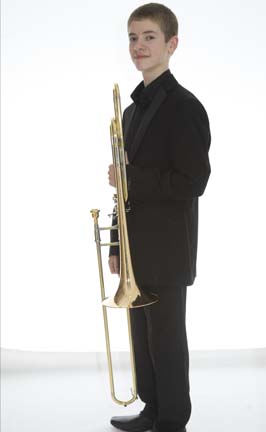 The London Symphony Orchestra has appointed 18-year-old Peter Moore as Co-Principal Trombone, the Orchestra's youngest ever member. Peter was a graduate of the 2012 LSO Brass Academy. Each year the LSO Academy provides up to 30 promising young instrumentalists aged 14–24 with a unique opportunity to work with the great orchestral musicians of their time in a week of orchestral-focused workshops and masterclasses at LSO St Luke's. Peter Moore's appointment makes him one of nine members of the LSO who have come through the LSO Academy and other artist development schemes run by the Orchestra.
The LSO's Artist Development programme identifies and nurtures the next generation of young performers, composers and conductors from a diverse range of backgrounds, and offers them opportunities to develop their careers. Over the past three years, over one thousand performers aged 14 to 35 have worked directly with LSO players as part of the programme; for many, this has offered a pathway into the professional music world. Alongside Peter Moore, Angela Barnes (Horn), Antoine Bedewi (Co-Principal Timpani), Philip Cobb (Principal Trumpet), Naoko Keatley (Second Violin), Maxine Kwok-Adams (First Violin), Joseph Melvin (Double Bass), William Melvin (Second Violin) and Sarah Quinn (Sub-Principal Second Violin) have all graduated from either the LSO Academy, or taken part in the LSO String Experience, and progressed to become members of the LSO.
As part of the collaboration between the LSO and the Guildhall School of Music & Drama, a new postgraduate specialism in Orchestral Artistry was launched in September 2013.
In 2008, at the age of 12, Peter Moore became the youngest ever winner of the BBC Young Musician of the Year competition. He studied with Philip Goodwin at Chetham's School of Music in Manchester, and with Ian Bousfield (previously Principal Trombone of the LSO and Principal Trombone of the Vienna Philharmonic Orchestra).
Following his Wigmore Hall debut in 2008 Peter has given recitals at venues and festivals throughout the UK including The Bridgewater Hall, St George's Bristol, Conway Hall, Eaton Square, Royal Welsh College of Music & Drama, Leeds College of Music, and the Newbury, Chester and Manchester Festivals. As a concerto soloist he has appeared with the Polish Chamber Orchestra (both in Poland and at the Rheingau and Mecklenburg-Vorpommern Festivals), the Northern Chamber Orchestra, Brighton Philharmonic and BBC National Orchestra of Wales.
In 2009 Peter featured as soloist at the European trombone festival Slide Factory in Rotterdam and undertook a five-week tour of Australia. He has since returned twice to Australia and New Zealand for extensive trips performing as soloist with orchestras, bands and in recital.
Peter's debut CD recording of Edward Gregson's Trombone Concerto with the BBC Concert Orchestra was released in 2010 to critical acclaim, and a recording with the Australian brass group Brass FX will be released shortly.
In January 2013 Peter won the Wind section of the Royal Over-Seas League Competition and in October featured as soloist in the opening concert of the brass event performing Mark-Anthony Turnage's trombone concerto Yet Another Set To with the BBC National Orchestra of Wales.
Share this article