Regent Hall features Boston Brass
Written By: David Read Comments: 0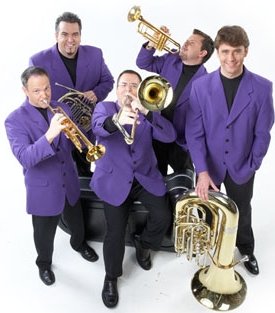 Boston Brass will be heading to the UK this October to be the headline act at the Regent Hall Brass Arts Festival. The series of brass concerts packed into the central London venue will also feature Desford Colliery Band, Fodens Richardson Band, Zone One Brass and Regent Hall Band.

Boston Brass, a lively brass quintet based in New England, USA
The festival is timed to be in the three days leading up to the National Brass Band Championship Finals at the Royal Albert Hall on Saturday 11th October.
2008 Regent Hall Brass Festival
Thursday 9th October to Saturday 11th October 2008
Regent Hall, Oxford Street, London
Festival ticket £48, major concert £9-£16, etc.
Full information from the Brass Herald article.
Share this article