Review: Stan Kenton Christmas Spectacular
Written By: Douglas Coleman Comments: 0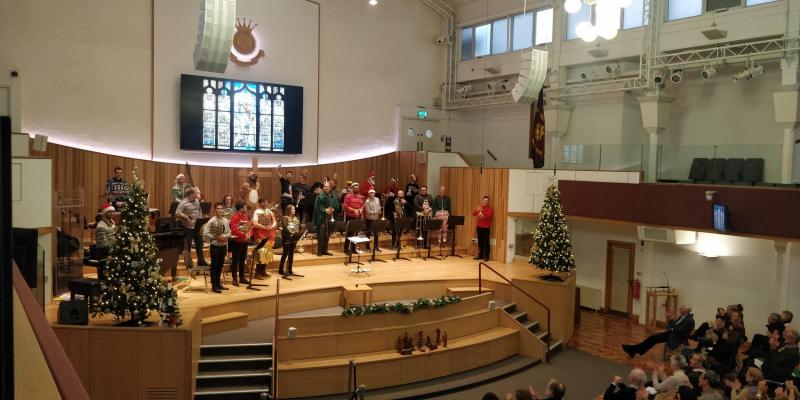 Jingle Bell Brass, conducted by Richard Ward, perform Stan Kenton's swinging album...'A Merry Christmas'
Regent Hall, London - 1pm Friday, 20 December 2019
Getting a group of professional musicians together in one place and one time is rather like herding kittens. Doing so with a line-up such as the audience were presented with here speaks volumes to the esteem with which Simon Minshall and Richard Ward are held by their peers. Regent Hall was packed on a busy pre-Christmas Friday lunchtime, buoyed by the 'festive' outfits which adorned members of the band.
Then of course there is the music! Stan Kenton's arrangements of well-known Christmas tunes still sound as fresh and powerful as the day they were composed. The harmonic complexity combined with the searing heat of the full band at work was breath taking. This is a sound too little heard these days. How much more popular this music would be if we could spread the word?
Suffice to say, it is alive and well in the hands of the musicians featured here (see full list below). The Trumpet section combined the power, range and ambition of Louis Dowdeswell, Tom Walsh, Jim Davison and Adam Chatterton with the superlative orchestral musicianship of Paul Beniston, James Fountain and Toby Street and the beautiful solo work of James Copus on Flugel Horn. The French Horns deserve a special mention for meeting the challenge of Ralph Carmichael arrangements fearlessly. The extreme range, complex lines and harmonies came across very well. As Richard Ward said in one of his introductions - I'm sure Kenton would have preferred the French Horn to the Mellophone had he heard it played like this! The Trombone and Tuba section made the hairs stand up on the back of my neck with the opening of Oh Tannenbaum. The balance, warmth and clarity of their playing is of course the hallmark of the finest musicianship. The Rhythm Section were precise, driven and supportive.
Callum Au's arrangement of Frosty the Snowman showed us that Jazz in the UK has a bright future. It had all the humour, contrast, clarity and power of a classic Neil Hefti arrangement and I am sure that we will hear more of his work in the future. Callum's solo, as he traded phrases with Louis Dowdeswell, flashed with fire, poise and direction. A special mention too to Simon Minshall's rendition of the tune (everything that a Bass Trombone should be!) and Dave Kendall's surprise falsetto Tuba at the end.
Richard Ward shared his infectious love of the music and his ultimate respect for the musicians in a way that left the audience with a brilliant insight into what being a musician is all about. Communication, passion and precision. Often in our day to day life we forget this, and how good it feels when it all works out. I would like to thank Simon for helping us to remember!
Review: Douglas Coleman
---
Stan Kenton's 'A Merry Christmas' | Regent Hall, London
Conductor: Richard Ward
Trumpets: Louis Dowdeswell, Tom Walsh, James Fountain, Jim Davison, Paul Beniston, James Copus, Toby Street, Adam Chatterton
Horns:  Joe Ryan, Helena Jacklin, Jack Pilcher, Tom Bettley, Sarah Johnson, Jake Bagby
Trombones: Jon Stokes, Callum Au, Tom Dunnett, Sion Jones, Simon Minshall
Tuba: Dave Kendall
Drums: Joe Evans, Percussion: Matt Whittington, Piano: Chris Eldred, Bass: Nick Walsh
Share this article