Runar Vaernes performs in Manchester
Written By: David Read Comments: 0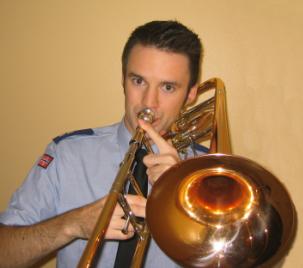 Norwegian trombonist Runar Vaernes has been making an impact in Britain with his contest performances with the Stockport-based Leyland Band over the past couple of years. He will be flying in once again this month to perform a solo item with the band as part of the RNCM Festival of Brass. The piece is H?kan Berge's Trombel, for trombone and band (1990), a 12 minute solo originally written for Leif Vaerum Larsen, Runar's former teacher in Stavanger. 
It's quite an accessible contemporary piece. Slow, cold but bold Nordic sounds that build up to a nice cadenza and a very rhythmical and a rather complex part, which will test the band. Runar Vaernes
Sunday 28th January 2007 12:00 pm Haden Freeman Concert Hall, RNCM, Manchester, UK Hakan Berge (b. 1955) studied at the Rogaland Conservatory of Music in Stavanger, Norway and is best known for his work with stage music. As composer, conductor and MD, Berge has worked at all the main theatres in Norway and has developed a relationship with the Stavanger Brass Band for whom he wrote the Great Colour-Gobbler March (1996) and Four Unexpected Dances (1994). The 28 year-old Royal Norwegian Air Force Band 1st trombone plays some concerts and contests with both Leyland Band and as Principal Euphonium with the Stavanger Band since 2005. With Leyland, Runar won the Don Lusher Memorial Trophy at Brass in Concert 2006 and Best Instrumentalist in the National Brass Band Championships 2005.
Share this article