Summer 2014 Magazine Preview
Written By: Ross Learmonth Comments: 0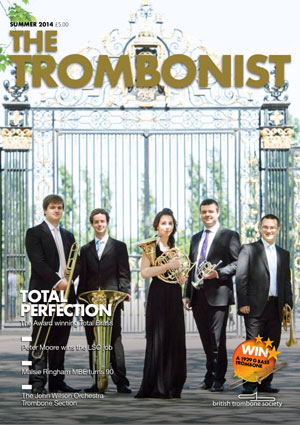 Here is a sneak preview of our Summer 2014 edition of 'The Trombonist'.
In addition to our regular articles we want to send a huge happy 90th birthday to former Hallé Principal Trombone, Maisie Ringham. Below are some personal messages to Maisie from Dudley Bright and Katy Jones that we would like to share with you on this occasion. Don't forget to check you membership is up to date, to avoid missing out on this publication and all the exciting things going on in the trombone world!
Dudley Bright-Principal Trombone London Symphony Orchestra:
For as long as I could remember Maisie Ringham had been a household name. A remarkable lady trombonist in a man's world. Among my family's 78rpm record collection were a few discs featuring her recordings of 'Oh for the wings of a dove', 'Song of Faith' and, spread across 3 sides, 'Concertino for band and trombone' conducted by the composer Erik Leidzen. Even at a tender age I could discern a tremendous commitment and level of communication in her playing. Then one Saturday at our local Salvation Army I was taken to hear a visiting brass quartet playing arrangements of string quartets by Haydn and Beethoven and there, with the 2 cornets and a euphonium, where one may have expected a horn player, was Maisie performing marvels on her trombone with the viola parts. Subsequently, I must have seen her play solo, as I became familiar with her characteristic playing posture along with her trademark cloth protecting her collar from the trombone. However, most significantly, I became acquainted with her total commitment to give at least 100% to anything she did. At this time, although women were rarely allowed in Salvation Army bands, she regularly appeared as a soloist with them and became bandmaster in Cannock. She had only fairly recently given up her position as Principal Trombone of Manchester's Hallé [1] Orchestra to marry Ray Wiggins, a monumental sacrifice considering the significance of her appointment. It was with much pride that I became her third successor 28 years later in that historic orchestra. There were still a handful of players who remembered her warmly but otherwise there was little trace of her ground-breaking tenure, until one day as we were rehearsing the interminable last movement of Mahler's absorbing Ninth Symphony, I saw some familiar handwriting at the beginning of the last line of music, "only five minutes to go!" Yes - Maisie had been there before me!
Years later I was browsing a display in the Imperial War Museum entitled 'The BBC at War', and there in a photo of The BBC Midland Dance Orchestra was a very young Maisie heading the trombone section. While her appointment in 1946 to the Hallé might have been partly ascribed to non-availability of men, John Barbarolli made it clear that he would stop at nothing to rebuild his orchestra into one of the country's finest, by appointing several women to key positions. Of no less significance was Maisie's solo performance with the Orchestra of Paul Creston's phenomenally demanding 'Fantasy' - a rare appearance with a professional orchestra of any solo trombonist and possibly the only UK orchestral performance of that piece to date!
For the professional trombonist there was little choice of equipment in those days. Beyond British Besson and Boosey and Hawkes instruments, American imports were a rarity and much prized, so that day when Maisie found that her treasured medium-bore 'Olds - Recording' had gone missing, she was distraught and confessed to the Maestro. Little sympathy was forthcoming when JB, as Sir John Barbirolli was known, growled "Well, just go and get another one Maisie". Although the missing instrument was returned, the unusual fluted slide was damaged and was found to be beyond repair.
Another instrument which became synonymous with this unique woman appeared to have the stunted growth of an 'F' section. The story of how this came about is worth relating. It seems that a certain band had a trombone which was impossible to play properly in tune. It was offered to Maisie as possibly of some use to a beginner. It took her no time to realise that the tuning problem was simply that it was a concert pitch trombone, whereas bands still adhered to the old high pitch. Having nothing to lose, Maisie had it converted into high pitch and was very pleased with the result as it was a top spec. American trombone made by the Martin company. In the mid-sixties Maisie was invited to make a world tour including USA, Canada, New Zealand and Australia. The problem was that she was to be accompanied by different bands in the same concert, some having converted to concert pitch and some not. The dilemma was solved by attaching a valve and short slide to the neck tubing, equal the difference in pitch. With this she could instantly switch between pitches. She continued to play this unusual trombone until she switched to a large bore Conn.
Much of the forgoing information has come to me first-hand from Maisie herself as our paths were soon to cross. In the late sixties Ray and Maisie moved into our district and attended the local Salvation Army corps at Wealdstone. Not only did the local education authority snap her up for her brass teaching skills but she was soon put to work leading the Salvation Army Choir, the Songsters. Naturally we came to know each other quite well and I found her even more inspiring than ever.
What I discovered was that this great icon was in fact, a warm, kind, generous and humble person. I only ever had one lesson from her but she was a continuous encouragement and inspiration. She never let her standards drop, be it in her own playing, in leading the Songsters or teaching the youngest, most tender talent.
One particular joy, with my father and elder brother, was to form a brass quartet in order to add variety to Songsters festivals. Although we never tackled string quartets, Maisie performed the horn parts of the brass quartets we played with considerable facility. I think the greatest pleasure we had in that small group, was playing Eric Ball's matchless 'Jewels', lovely, tender music written and played straight from the heart.
It was a privilege to hear Maisie describe interesting events in her life. Some make you realise how much attitudes have changed.
In the days when there was always a gala concert after the National Brass Band Championships, Maisie was invited to appear as soloist with her future sister-in-law, Marjorie, as accompanist. As they waited to make their entrance onto the famous Royal Albert Hall stage they were questioned by an attendant as to their intention. Thinking it was rather obvious, Maisie briefly pointed out their purpose, to which the 'Jobsworth' replied curtly 'You can't go in there - it's only for men!' Thinking quickly, they hitched up their ball gowns and headed briskly to an alternative entrance.
I mentioned earlier Maisie's recording of Leidzen's Concertino. Apparently, it was planned that she should record 'The Eternal Quest' with the International Staff Band but because Erik Leidzen was due to visit the UK it was decided that Maisie should record his piece instead. As she had a holiday booked Maisie took her trombone and prevailed on the local Salvation Army officer to allow her to use their hall every day for practice. Some 40 years later, tapes of this recording came into the possession of S.P.& S. and Maisie's wonderful performance was issued on a CD of recordings from the 78 era.
Unfortunately, the employee tasked with informing any surviving performers failed to contact Maisie and the recording was released without her permission. She had nothing to worry about as her playing comes through the digitising process better than ever. Having personally made two recordings of this piece, putting aside the obvious stylistically differences, I was acutely aware of how much I had to learn about making a performance communicate. We are indeed poorer for not having her recording of 'The Eternal Quest' - surely they could have done that too!
Maisie has never retired, always putting herself wholly into whatever she does, whether conducting London Ladies Brass, teaching at Harrow School, playing in the SA wind band or her corps band. One never has any sense that Maisie is any way self-promoting but rather she has has given her life in service to others through the gift of music.
Maisie - Thank you and Happy 90th Birthday.
Katy Jones - Principal Trombone, Hallé Orchestra:
"I am honoured to sit in the Principal Trombone chair at the Hallé Orchestra, where so many wonderful musicians have sat before me. Maisie is, and always has been, an inspiration to many young, female trombonists, and I was thrilled to finally meet her at a friend's wedding 3 years ago."
Share this article