THE BIG SHAKE-UP
Comments: 0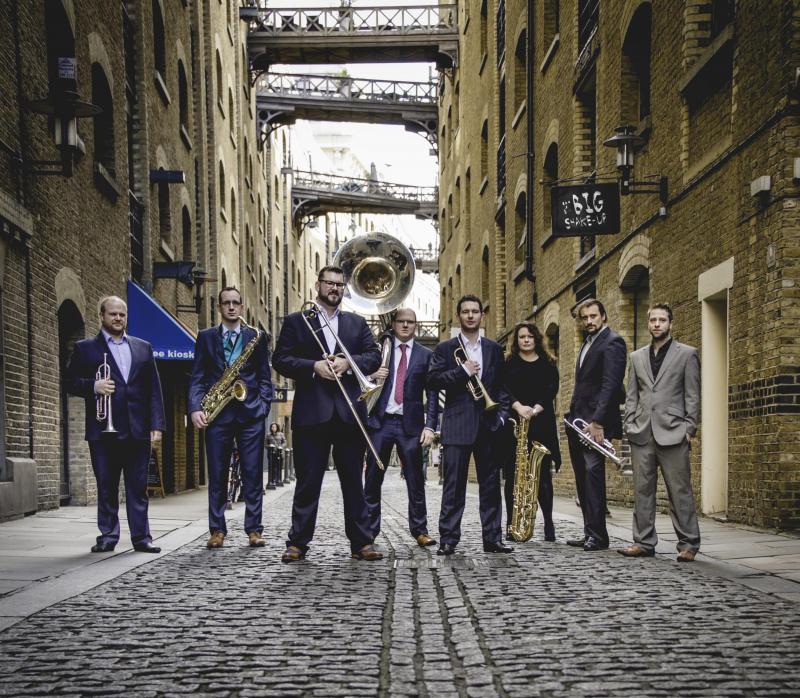 'The Big Shake-Up' album release (BAB003) Friday 18 November

EFG London Jazz Festival:  Sunday 20 November, Elgar Room, Royal Albert Hall  
Formerly known as Bad Ass Brass, The Big Shake-Up is fast becoming recognised as one of the most innovative and exciting ensembles on the UK Jazz scene – Jon Stokes (trombone), Jean-Paul Gervasoni, Paul Munday & Gavin Broom (trumpets), Sam Bullard & Gemma Moore (saxophones), Mike Poyser (sousaphone) and Jimmy Norden (drums).
The band takes its influences from the four corners of the globe, each member of the band bringing their own style but with a collective focus on creating incredible original music performed to the highest standard.  "The Big Shake-Up is a diverse group of immensely talented musicians with vastly different musical backgrounds and influences but who all pride themselves on creating a tight, high energy jazz ensemble," says Stokes.
The album showcases three unique compositions from Russell Bennett, a young composer who works closely with the band.  "Over the years we've been lucky to work with some wonderful arrangers and composers," explains Stokes.  "Russell is also a world-class trumpet player who knows our style as a band and as individuals.  These compositions show off all aspects of The Big Shake-Up at the same time as having great grooves and soaring melodies."
"If you want to be blown away by British Jazz, look no further." Jazz FM
Callum Au is one of the UK's finest arrangers and his setting of 'God Bless the Child' is the perfect vehicle for the stunning vocals of Sharleen Linton who guests on the album.  Also included is a New Orleans influenced piece by British jazz legend, Dave O'Higgins.  "We like this tune so much we even named the band after it! We hope that this collection of compositions and arrangements shows off the band to its full potential," concludes Stokes.
---
Following the album's release on Friday 18 November, The Big Shake-Up will launch their new album in the EFG London Jazz Festival, Sunday 20 November 9.45pm in the Royal Albert Hall's Elgar Room. For tickets and more information, please follow this link.  
---
Share this article