The Don Lusher Jazz Trombone Competition 2016
Comments: 0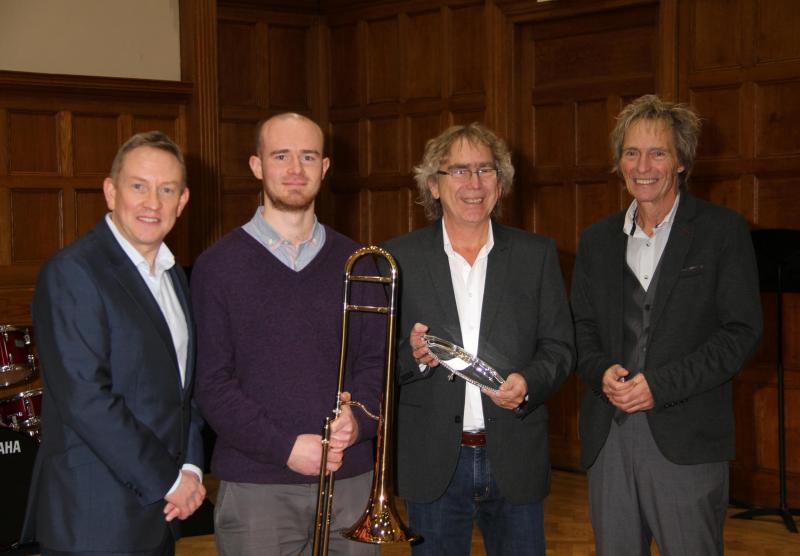 The finals of the biennial Don Lusher Jazz Trombone Competition were held in the Great Hall of Oundle School at the Annual General Meeting and East Anglia Trombone Day on Sunday 20th November 2016.
The finalists were Lewis Bettles, Richard Leonard and Ollie Martin and the judging panel, Cliff Hardie (Jazz Trombonist, who he hasn't played for is a short list!), Nick Hudson (Freelance Trombonist, Soloist, Teacher and Don Lusher Memorial Prize winner) and Jon Stokes (Currently in the John Wilson Orchestra, The Big Shake-Up & Dream Girls. Formerly of The Syd Lawrence Orchestra). The accompanist was Anthony Kerr-Dineen.
A unanimous decision from the judges awarded Ollie Martin winner of the 2016 Competition. Ollie wins the Don Lusher Trophy, seen here presented by Dave and Phil Lusher and a John Fedchock endorsed XO trombone and support, courtesy of Korg UK, presented here by Richard Ashby.
Richard and Lewis each received a prize of £100 each, courtesy of Korg UK.
Well done to all competitors in this year's competition. A full report of the event will be published in the Spring edition of the Trombonist magazine.
Share this article