Van Rijen at the Barbican
Written By: David Read Comments: 0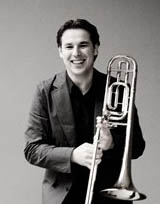 Dutch trombone star Jörgen van Rijen comes to London in May to perform the British premiere of the Kalevi Aho Trombone Concerto with the BBC Symphony Orchestra.
The commission has been supported by the Borletti Buitoni Trust, who have been supporting several of van Rijen's CD recordings and commissions with the £20,000 following the trombonist winning the £20,000 grant in London in 2006.
Finnish composer Aho previously wrote his 'Symphony No. 9 for trombone and orchestra' for Christian Lindberg, who performed it in Britain at the 2003 BBC Proms, memorably with both trombone, sackbut and free jazz solos.
10 May 2012, 7.30pm
Shostakovich The Bolt - Suite
Kalevi Aho Trombone Concerto (UK Premiere)
Sibelius Symphony No 1
Barbican Centre, London
BBC Symphony Orchestra
Alexander Vedernikov conductor
Jörgen van Rijen trombone
Tickets: £10-£30. Booking and full info

Share this article